"Establish a starting point where you can ask your horse
to do something and he will do it, and then go from there"
Wendy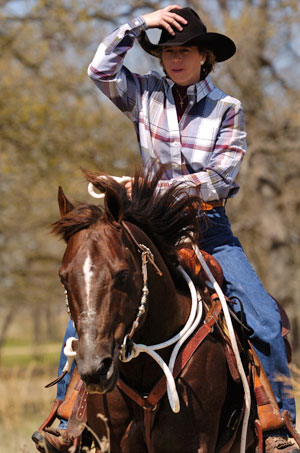 From the time she was very small, Wendy had a love for horses. Before she could even walk or read, she was asking for horse toys and books. As time went on, she began to devour every horse magazine and book she could get her hands on. Like many young girls, she dreamed of having her own horse; a dream she thought would never come true. But then on her 16th birthday, her parents surprised her with Secret, a beautiful two year old appaloosa mare. Although Secret was halter broke, she had no training under saddle. Many would say this was not a good combination and for the most part that statement is correct, but Wendy had a God-given natural ability with horses that defied explanation. After lots of hard work, Secret became a well-trained mount. The family eventually purchased more horses and Wendy went on to work with them as well.
Others began to realize Wendy's love and gift for working with horses; she soon began to take in outside horses to train. While in college, Wendy worked at several horse facilities and by word of mouth her endeavors grew until she realized this was what she wanted to do as a career. Then through a series of events, she was able to attend two prestigious training certification programs and graduated at the top of both classes. Experience is always the best teacher when it comes to learning, and Wendy was blessed to gain the knowledge to work with all types of horses. She eventually began her own training facility, Cornerstone Training Center, and developed a lucrative business with a client waiting list. She was also invited to participate in symposiums and clinics across the country including Equitana USA. Her training advice and expertise has been featured in noted horse industry publications including Horse Illustrated, Performance Horse, Hoof beats, and Lone Star Horse Report.
No stranger to the show ring, Wendy has trained and shown Western Pleasure Futurity, Halter Futurity, and high point Halter winners for the Appaloosa Horse Club (ApHC) and the Palomino Horse Breeders of America (PHBA). She's also shown her fair share of cutting horses.
Wendy's gift for training extends to people as well as horses and she excels at teaching others how to adopt a low-key way with horses which accelerates the horse's learning while keeping both horse and handler calm and safe. She also enjoys equipping horse lovers of all experience levels with the tools that will allow them to realize their riding dreams.
Steve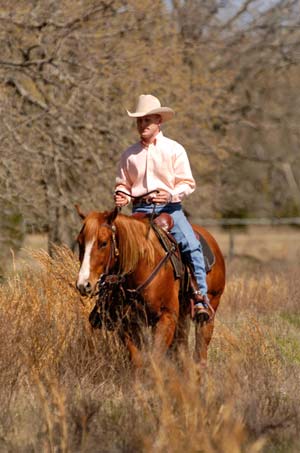 Immediately after high school, Steve apprenticed under a captain for the United Mounted Peace Officers of Texas. He then pursued a career in law enforcement.
Although he retains his police officer certification, after their marriage in 2002 Steve became Wendy's full-time partner at Cornerstone Training Center in Scurry, Texas.
Steve enjoys every phase of training a horse -- from foal handling to teaching advanced maneuvers – but he has a special gift for starting colts and moving them into advanced training. He has started and trained hundreds of horses, and learns something new with each one. His colt starting demonstrations are always a hit with spectators. Perhaps more importantly, owners report that their horses are easier to handle and advance further in their training afterward!
Steve is an engaging speaker with a quick wit. He connects easily with crowds of all sizes. Whether conducting clinics, demonstrating at an expo, or giving a private lesson he enjoys equipping owners and handlers with the tools to connect with their horses, quickly, safely, and permanently.
Steve also loves to show and has had the pleasure of competing in the Extreme Mustang Makeover numerous times and placing in the finals. Steve just recently won the Ultimate Mustang Challenge in April of 2013 with Smokin' Gun.
Wendy & Steve - Cornerstone Training
Cornerstone Training is about teaching in easy, sequential steps, helping owners learn how to equip themselves and their horses to build the strongest riding team possible. Because every lesson has a practical "real world" purpose, anyone can instantly grasp the reason for teaching a horse a particular exercise.
There's no grandstanding, no hard-sell, and no ego trips. Steve and Wendy's fun, practical, systematic approach exemplifies the benefits of great partnerships. Best of all, at the end of a session, students often discover they've been inspired to improve their horsemanship skills in ways they previously thought beyond them.
Cornerstone Training: Helping serious horse lovers train the horse of their dreams for the ride of their lives. Steve and Wendy are confident they can help improve anyone's relationship with horses – especially yours!