"Refine the use of your reins to your
pommel box, no chicken wings!"
Steve and Wendy Smith have demonstrated their horsemanship skills at venues such as Equitana, Equine Affair, UP Equifest, Rafter J Colt Challenge, Extreme Mustang Makeover, Ride with the Stars, and Horse-O-Rama. They have thrilled crowds with a variety of demonstrations such as problem horse, trailer loading, colt starting, advanced training, foal handling, bridleless riding, trick training and warmed the hearts of many when they've used their equine partners Smokey and Smokin' Gun to show the level of trust and ability a horse can reach with the right training.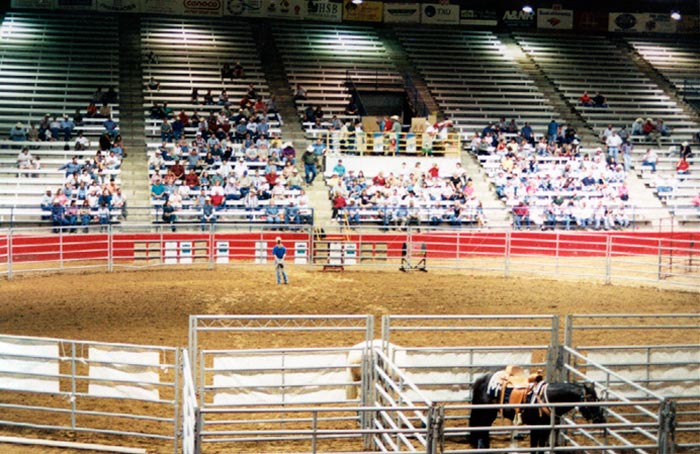 Since the early beginnings, Steve and Wendy have developed a repertoire of educational demonstrations that keep will keep you glued to your seat. As one of the first females to demonstrate her horse training skills at Equitana, USA, Wendy used an untouched foal that was still nursing on its mother to demonstrate how her techniques can be used from the first days of life. Steve has a gift for starting young horses and has done many colt starting demonstrations all across the country.
"We can use our own horses to show people what can be achieved or we can use an attendee's horse to show that they are not alone in their struggles and every problem can be overcome."
~ Steve Smith.
Steve is available for public horse demonstrations in the following areas:
problem horses
colt starting
foal training
trailer loading
advanced training exercises
demonstrating control over 5 body parts
spookproofing/desensitizing
building confidence in the saddle
Booking Information:
If you would like book a demonstration with Steve or Wendy, click here to contact us for availability and rates.
"I saw you giving a demonstration at Equitana, U.S.A. What you were doing with those horses was amazing, but better yet, your methods looked like something I could see myself doing if someone would teach me.I immediately found out how I could take a clinic… Your methods are so solid. They really do work every single time. You can still catch me jumping up and down with excitement when one of my horses "gets it."As incredible as your methods are, your ability to help others learn might very well be just as incredible. (You are) gifted beyond belief at teaching. Anyone who has the opportunity to learn from you should grab it fast! You should see what me and my horses are doing together now!"
~ Kellie A.