"Don't start with your end goal. Establish a starting
point and build on it in increments"
The fastest way to move forward with your horse is to take a few steps back. That's true for professionals, beginners and everyone in-between. If a problem has occurred with your horse's behavior or in his training, then that's an indicator that you've missed a step in his foundation. Take a look at the clinic outlines to see which clinic you feel is right for you. If you need help selecting a clinic, call Cornerstone Horse Training at (903) 498-4724 and we'll help you.
At every clinic we:
demonstrate each exercise with a trained horse
explain the benefits and reasoning behind each exercise
show you a step-by-step approach to teach you how to teach your horse the exercise
explain how you can incorporate the exercise in your day to day training
work with you one-on-one as you apply what you have learned
work through any problems or issues that come up with a particular horse
Starting on the right hoof clinic:
This clinic covers a variety of ground work exercises which will help improve the relationship between horse and owner. These exercises lay the foundation for any horse started under saddle. These are the basic foundation exercises we use throughout the horse's entire career.
desensitizing/spook proof exercises
yielding the front end
yielding the hind end
backing correctly and softly from the ground
lunging
flexing
leading exercises
respecting personal space
foundation exercises for trailer loading/unloading
Click here to book this clinic.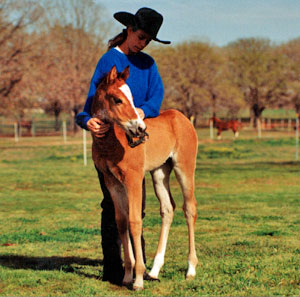 Elements of a Seasoned Horse Clinic:
This clinic is specifically for the horse that can be ridden but is not well-trained. We will cover ground work exercises and under saddle exercises which will help take your horse to a higher level of training. This clinic will help make your horse a joy to ride. The lessons learned in this clinic are the foundation that we use to teach the horse more advanced exercises, which will lead to a more finished horse.
develop control of the individual body parts of your horse which will enable you to have better performance
soft, supple, listening to you exercises
how to get the right reaction from your horse
yielding to pressure
versatility exercises
Click here to book this clinic.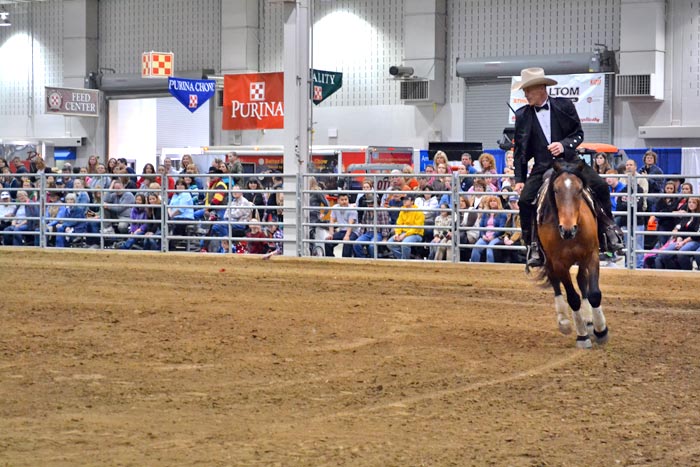 5 Body Parts Clinic:
Learn how to establish control of the 5 body parts of your horse: the head, neck, shoulders, ribcage and hindquarters. This clinic will improve control of your horse and increase your safety in all areas of horsemanship. You will learn how to reposition your horse for better performance in every event. This will help you to better negotiate obstacles, improve your trail riding skills, score higher with reining maneuvers, improve dressage scores or clock faster times in speed events.
break down the horse into 5 body parts
achieve independent control of the 5 body parts
put the 5 body parts back together to gain better control of the entire horse
learn how control of the 5 body parts will transition into top level maneuvers such as, side passing, two tracking, leg yields, spins, lead changes, turning on forehand or haunches, lateral and vertical softness, head down cue, half pass, and much more
Click here to book this clinic.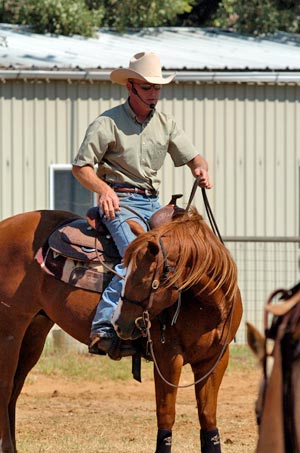 Confidence Clinic:
This clinic combines groundwork and riding exercises for the handler/rider who lacks confidence. We start from the ground up and work on specific exercises to help build confidence between you and your horse. We will show you how to deal with a misbehaving horse and what to do when you become afraid or lose control. The sole purpose of this clinic is to build confidence in your ability to handle and train your own horse. As your level of confidence increases, so too will your level of enjoyment!
exercises to improve your balance
exercises to improve timing
engaging your horse's emergency brake
increasing softness and responsiveness in the horse
reacting in emergencies – what to do and what not to do
overcoming your fears
dealing with a misbehaving horse
what to do when your horse will not respond
learn to know when you and your horse are ready to move on to new exercises or when you need more work
Click here to book this clinic.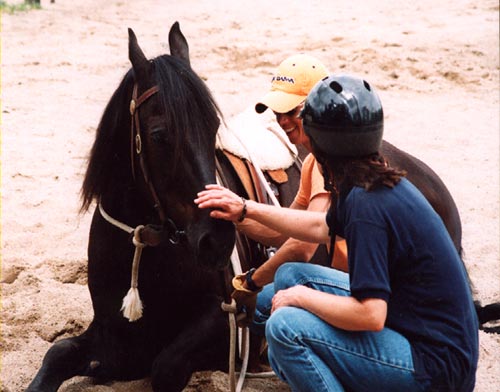 Impulsion Control Clinic:
Whether you have a horse with too much energy or your horse is lazy, this clinic will teach you how to improve control of your horse's speed and energy.
teach your horse to take responsibility for maintaining the gait you choose and the speed you set
teach a horse that wants to go too fast, to be relaxed and feel comfortable on a loose rein without speeding up, changing gait, or getting nervous
teach a horse that goes too slow, how to move out, maintain his gait without slowing down, and have a good attitude about being active
Click here to book this clinic.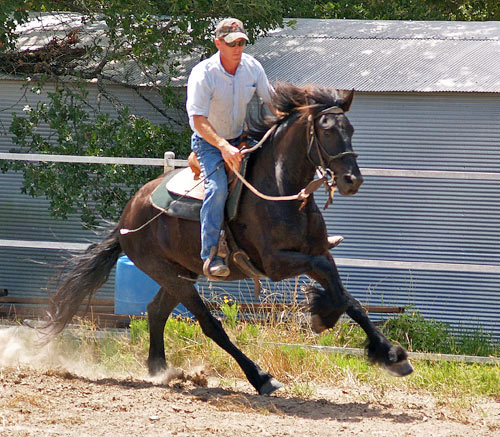 Spook Proof Clinic:
The Spook Proof Clinic is a must for all horses. These exercises will build confidence between you and your horse under saddle and on the ground:
step by step instruction in the proper way to desensitize/spook proof your horse
learn what not to do while desensitizing/spook proofing a horse
we work one-on-one with you and your horse as you move through the exercises
learn how to adjust your technique to suit different scenarios
how to use desensitizing/spook proofing exercises while riding
build confidence through obstacle work
Click here to book this clinic.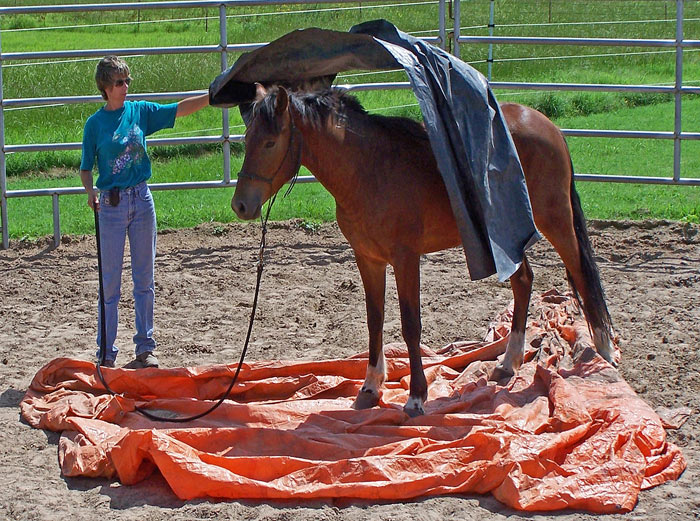 Training on the Trail:
This clinic leads you through a series of ground and under saddle exercises which every trail horse needs to know:
demonstrating each exercise on a well-trained horse and showing the end product
starting in the arena and then moving to the trail
exercises to improve a horse who is going too fast or too slow
exercises to improve the problems of jigging, and spooking
exercises to safely cross water and negotiate obstacles
riding safely in groups
dealing with buddy sour and barn sour horses
Click here to book this clinic.
Obstacle Course Clinic:
This clinic lays the foundation starting on the ground and progressing under saddle teaching you how to correctly and safely negotiate any obstacle.
exercises you need to know before tackling any obstacle
exercises which move you through various obstacles from beginner to more challenging
exercises that teach you how to work through any problem such as balking or spooking at an obstacle
There will be a fun obstacle course challenge at the end of the clinic to show off what you and your horse have learned.
Click here to book this clinic.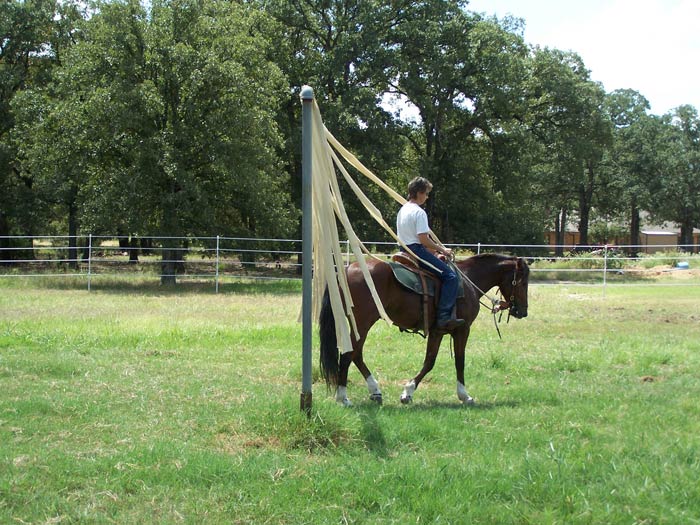 Problem Horse Clinic:
By working with thousands of horses and people we've learned that the common denominator with all problem horses is the lack of a good foundation. This clinic will teach you how to earn your horse's respect, giving you the tools to establish control and fix the problems.
Click here to book this clinic.
Trailer Loading Clinic:
In this clinic you will learn how to teach a horse to load and unload in any trailer, to overcome trailer loading anxiety, and to solve all other trailer loading problems.
Click here to book this clinic.
Colt Starting Clinic:
This clinic will take you step-by-step through the process of starting a horse under saddle. We will cover all the foundation exercises required before riding.
round pen beginnings
desensitizing
yielding body parts
lunging exercises
flexing exercises
saddling
bit work
obstacle work
recognizing when your horse is ready to move on to the next step
assistance with the first ride on your horse when he is ready
teaching you the first 7 exercises which must be done on every colt for the first 12-14 rides, including instruction on flexing and yielding under saddle, emergency brake, maintaining all three gaits, staying along the fence, and flexing while moving
Click here to book this clinic.